Lo prometido es deuda. Aquí tenéis las palabras que intercambiamos con Jim y Marcus aprovechando su paso por España. Espero que os guste y os deje un buen sabor de boca. Buenos Rockeros, mejores personas¡¡¡
texto. ::spiral::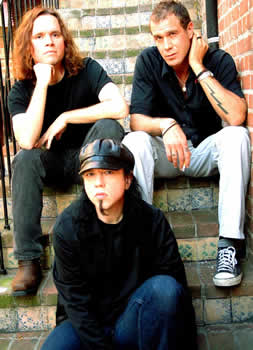 First of all, congratulations for your last album. I want to tell you (that)Moanin´ has been chosen /named as the best album edited in 2005 for " EL BAILE DE LAS SOMBRAS"

JIM: AWESOME!! It really is great that everyone is really getting into our new CD. It's going to be a good year for MS.

How has been work together with Joey Vera. Of all it is well known , his (its) labour as Armored Saint´s bassit. Are you glad/pleased/ satisfied with the production´s work?

JIM: Joey's a big MS fan. He was really helpful and helped us complete MOANIN' and I think it sounds really great. He has a home studio and some of the tracks on the CD were mixed there by a cool studio wizard named Jay Ruston. Joey then offered to mix "Get That Girl" and "Meltdown" and then he also mastered the CD. Half of the songs were recorded on analog tape and the other half was Pro Tools. Joey made all the tracks sound good together.

Can you tell us, if it is possible something about John Bush? (o something with regard to John Bush?). Lately, it doesn´t seem (that) the things are so clear with him in Anthrax. Do you know if definitely they ………… Anyway, , will he continue as Frontman of Armored Saint, won´t he?

JIM: We have met John but don't really know him as well as Joey and Scott. Scott Ian is definitely busy with the original lineup Anthrax reunion but I think they do plan on re-grouping with John and Joey again.

Which is the concept of Moanin´, if there is any concep in the conception/creation of the album?

JIM: We just wanted to make a killer rock album. A fast paced, back to basics rock 'n roll album with no filler that goes by so fast and furious that you want to play it again to see what you missed. We have been touring and playing a lot of shows for enthusiastic crowds and we wanted the album to sound more like Mother Superior sounds live. "13 Violets" had a very psychedelic feel to it, thanks to Wayne Kramer's wild production and mixes. We wanted this one to ROCK and feel a little more organic but still do some weird production stuff too like "Jack The Ripper" and "Devil Wind". It was also the first CD with our new drummer Matt (although he did all of the touring for "13 Violets" and has been in the band for over 2 years now) and he wanted his debut to be full-on rock & roll.

What kind of differences would you emphasize between Moanin´ and your previous works/albums?

JIM: Well, we never like to make the same album twice. We're always trying to do something DIFFERENT, but keep in the rock 'n roll spirit and tradition. Also, I've fallen in love with my Les Paul and I did a lot of work on this album with that guitar instead of my normal Fender Strat…but the Strat will be back! Anyway, we spent a lot of time on the songwriting this time around. With each release we get more and more listeners. With that in mind, we try to make sure the songs better and better each time.

Could be Moanin´your wildest album until now??

JIM: I'd like to think so. It's definitely the best sounding so far. All of the basic tracks were recorded live with the 3 of us playing together. It's so much better recording music eye to eye. We push each other to do things. We like to listen to wild music and I'm sure that makes us want to create our own wild music for Mother Superior.

Did you want to refect with Moanin´ the sound of early 70´s metal bands? If the answer is affirmative, could you talk about which bands have influenced you in the recording of this album?

JIM: We were listening to AC/DC, Led Zeppelin and Black Sabbath and of course, the Rolling Stones. We weren't afraid to experiment a little but we kept it all heavy. Matt calls it "beauty and sadness". Also, we wanted a CD full of fast-paced rockers like Cheap Trick, The Ramones, Wings and Thin Lizzy would write. Good chords and great melodies, played real loud!

Talking a little bit about your last visits to Spain, What memories do you have about your performance/gig in Azkena/04? People were astonished with your performance/show.

JIM: Our experiences in Spain have been incredible. People are really into us there. We feel a great connection with Spain. My favorite moment that always sticks in my mind is when we played in Barcelona and Matt was having technical difficulties with the rented drum kit so I started playing "Four Walls" by myself. The audience knew every word and it turned into a beautiful sing-along. We can't wait to get back to Spain again. OK, Marcus just walked in and he wants to answer a few questions too so I'll pass you on to him!! ROCK ON!

And what about Moanin´ s presentation tour, playing together with HASH and THE SOULBREAKER COMPANY, the last year?

MARCUS: We hope to put on an even better show than we did last year! Hash and The Soulbreaker Company were really great to play with and travel with. It's great to see that people like loud guitars! What about the experience? Hopefully, we made some new fans of Mother Superior. We played some great places in Spain and this tour is hitting more cities in Spain so we get to play in even more cities than last time. I could see you in Bilbao(Spain) and I was fucking buzzing (fucking shocked or knocked) I think that you showed how to rock on a stage!! Thanks! Bilbao was one of the highlights of last year's tour. You're right, there definitely was a buzz in Bilbao!

Your next dates/gigs in Spain, have been confirmed already?

MARCUS: Yes, check out www.mother-superior.com for all of the latest Mother Superior tour dates and news! Write in to the site and tell us what songs you want us to play live. Do you want to come back here? Of course! Not only are the Spanish crowds the best in the world, but we also made a lot new friends last year. Spain love to rock! What should people expect in your next visit? Expect the unexpected. We never do the same show twice. One night, we may do a lot of new, unreleased material, the next we may play all of Moanin' and the next, we may do a bunch of old stuff. You should expect to be rocked though!


It´s well know by the people that we follow us, your passion about music and that you are great enthusiastics of collecting Vinyls and all kind of material. I know that the following questions are going to be some captious, but I´m going to try it! Could you recommend us some current band that are you listening actually?

MARCUS: I wish I had a good answer to that question but we listen to mainly oder music. Good music is timeless. In fact, as I'm talking to you, I'm listening to the Beatles' Please Please Me album! But if you want an answer to your question, last year, a friend of ours in Spain played us the last Queens Of the Stone Age cd, which was really good. I've been liking the lastest Kate Bush album, Ariel, a lot. That's totally on the other end of the music spectrum! Are there some band that like you specially? We listen to everything. We like everything from James Brown to Supergrass! From John Coltrane to the Kinks! From Lee Perry stuff to the Led Zeppelin! And on and on! Which would be for you the pre-eminently bands of all the times?? Can you give us a few pages of space for that answer? The Beatles, the Stones, Miles Davis, David Bowie, Sparks, the Clash, Merle Haggard, Otis Redding, Stevie Wonder, Black Sabbath...too many to mention! We like rock, reggae, country, jazz, soul, pop, classical and everything in between! People, send in your cds and let us listen to them and we'll let you know what we think! Ha ha! ( I would like that you speak all that you want about these questions, ´cos my fiend and I are authentic vicious musically speaking… and I know these answers are going to like them a lot!!)


What would you say to all those people that don´t meet you yet, and maybe they are reading these lines?

MARCUS: We sincerely hope that you can make it out to a Mother Superior show. I think that when you see us play live, you really get to understand the power of the band. Thanks and let's rock Spain!